Young Speakers Inspire with Their Projects for Peace at S!NERGY
On December 12, the International Association of Youth and Students for Peace (IAYSP) Europe and the Middle East organized the first annual S!nergy youth speech contest under the theme: 'The role of young people in resolving conflicts and achieving the United Nations' Sustainable Development Goals.
The contest took place online via Zoom, which invited additional challenges for the speakers. Nonetheless, it vastly widened the outreach potential of the event. The online platform enabled an international audience of nearly two hundred people from around Europe and the Middle East to attend live.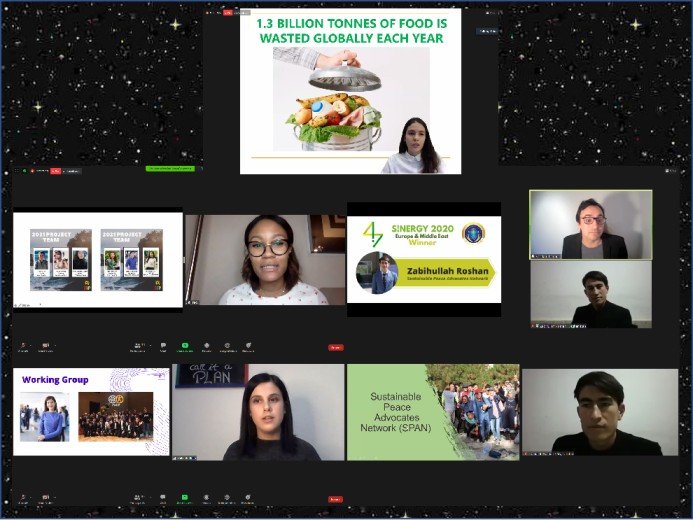 The contest was judged by Mrs. Jeong-hye Yeom, Secretary-General of IAYSP Europe and the Middle East, as well as three distinguished recipients of the Youth Heroes Award: Mr. Jan Gregor (Czech Republic), Vice-President for Alliance for Family; Dr. Jason Sparks (Hungary), Youth Delegate of Hungary to the United Nations; and Mr. Dadastone Ipoma (France), Founder and Chairman of IPOMA Association.
The first place in this S!NERGY was given to Mr. Zabihullah Roshan (Afghanistan), for his inspiring Sustainable Peace Advocates Network initiative, which promotes peace and women's rights in his country, by promoting peace marches and bike rides for peace.
Second place went to the youngest finalist, Ms. Tatiana Nekhodtseva from Russia. She initiated the GoodFood project to combat excessive food waste from restaurants and supermarkets by connecting these facilities with local organizations that specialise in providing food aid.