The Drugs Free Society Meeting #Nigeria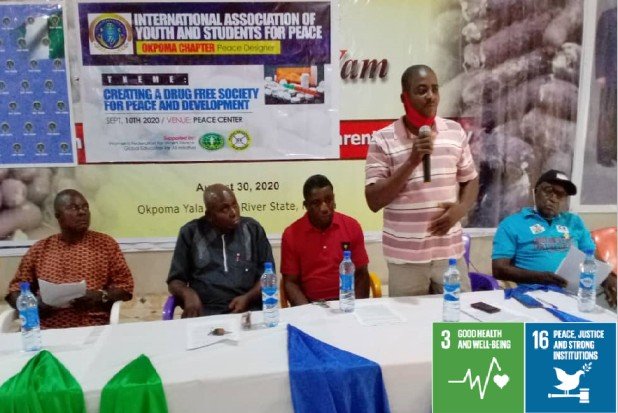 This speech was followed by the Managing Director of the Okpoma Transport Service, who touched on the need for all of us to be transparent in handling matters related to drug offenses in order for this fight to be conclude successfully, by eschewing favouritism and maintaining equity, saying "else we may not succeed in this important fight."
Next, Youth Leaders and Community Representatives gave recommendations where the various Youth Leaders and Community representatives present agreed to work hand in hand with necessary agencies and IAYSP to fight against drug abuse in society, which is threatening society at large.
In the final session, the Director-General of Narcotic and Drug-Free Society, Barr. Tony Odey, who gave an extensive lecture including the Causes and Effects of Drug Abuse, also informed the house that the government is trying to enact appropraite laws in Cross River State to pave the way for effective movement against drug abuse in the State. He said that Coordinators of the Drug-Free Club in various LGAs in the State have been established and will ensure that this Club will partner with IAYSP to embark on an extensive campaign, which ensures that perpetrators have justice served on them as a way of discouraging others. In the end, he expressed gratitude to IAYSP for organizing this forum and community-based campaign against drug abuse.
Some of the participants also recommended that the government should create a task force against drug abuse. Positively, the DG of Narcotic and Drug-Free Society agreed, and shared plans that are in the process of enacting laws and implementation in reducing the menace of drug abuse.
The meeting came to an end at 6pm with a closing act lead by a community representative from Itega-Okpame.
The stakeholders included: The Director-General of Narcotic/Drug-Free Society Barr. Tony Odey; The Security Agency, The Chairman of the Security Committee of Yala Legislature and Honourable Councilor Representing Okpoma Ward, Hon. Raphael Agi Ikade; Chairman of Patent Drugs Dealers Associations Okpoma Branch; All the Patent Drugs Dealers, Youth Chairman and Community representatives of the Various Communities; the Managing Director of Okpoma Transport Service; Members of IAYSP Okpoma Chapter and the general public.