Shine City Service in Las Vegas (USA)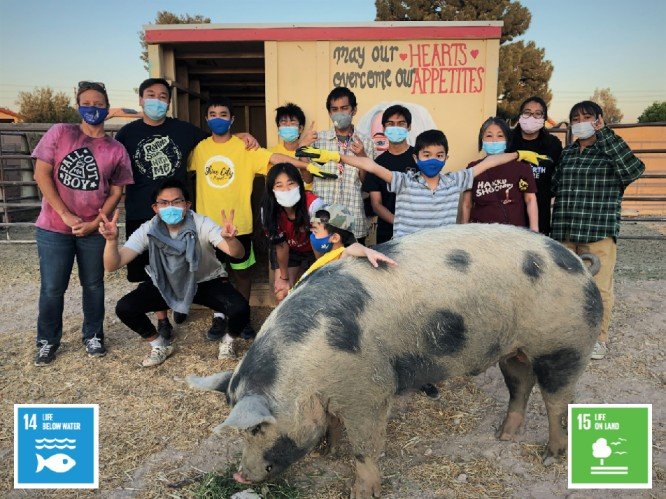 On April 3rd, Shine City Project returned for a service project at Lake Mead in Nevada, and on the 18th, they visited the All Friends Animal Sanctuary just outside of Las Vegas, NV.
At Lake Mead in Nevada, with their five volunteers, this time, they had the opportunity to ride a boat to reach their clean-up destination! The volunteers made their way to the Las Vegas Boat Harbor at Lake Mead, where they met Liz and Bob, a married couple of 41 years who are staff members for the Lake Mead National Recreation Area.
This extraordinary couple was the guide for the clean-up project for the day. The volunteer group was tasked with cleaning up litter from Hideaway Cove. To access the cove, they traveled about 45 minutes by boat.
Reaching the shore near their destination, everyone was equipped with cleaning tools then continued their journey afoot. Walking along the shore, an assortment of bottles, cans, and a variety of balls were collected. The largest item retrieved was the frame of a leftover pop-up tent!. After the clean-up, everything collected was then loaded onto the boat.
On the way back to the marina, they had a quick break at the floating restroom and got to visit the Hoover Dam!
On the other hand, at the All Friends Animal Sanctuary, they worked with Tara Pike-Nordstrom who founded the sanctuary and is also the University of Nevada, LV (UNLV) Recycling Manager and Sustainability Coordinator.
She was also the faculty advisor for Shine City Project when it was still a registered student organization at UNLV! The group's most memorable clean-ups back then were with Ms. Pike-Nordstrom and their late-night clean-ups at Sam Boyd Stadium. Back then, they collected all of the bottles, cans, plastic cups, and other recyclable materials from the bleachers. All of these items filled hundreds of bags which then filled several large dumpsters.
On this Sunday afternoon, sixteen volunteers, including members of the Collegiate Association for the Research of Principles Las Vegas (CARP LV) and Generation Peace Academy (GPA), met at Ms. Pike-Nordstrom's home, where she runs the All Friends Animal Sanctuary.
The sanctuary's mission is to rescue and provide a safe, lifelong home to animals in danger of being slaughtered, neglected, and/or mistreated in Las Vegas. It currently is home to more than fifty animals, including chickens, cows, goats, pigs, turkeys, turtles, sheep, and a sulcata tortoise. After a tour around the sanctuary, the volunteers got to experience up close and personal encounters with many of the animals as they helped with removing manure in several areas and cleaning then refilling food and water bins.