Pan-African Cultural Day #France
On October 22, 2022, IAYSP France celebrated the diversity of African cultures at Espace Barrault, in Paris.
Gisèle, one of the main organizers and volunteers envisioned that participants could discover the diversity of African cultures and share a moment of conviviality.
The organizing team aimed for the participants to leave permeated with positive energy through the different activities, such as the language café, art and leisure workshop, hair care workshop, and sharing of African cuisine.
The event started with the language café workshop, where participants could hear a lecture on the topic of the most spoken languages in Africa and their origins.
Part of the art and leisure workshop were messages presented by two young and talented entrepreneurs. One of them, IG @oshunetvenus, makes handmade costume jewellery with beads and talked about her passion for beads and how she came to love them.
The other special guest, IG @calypsobeaute, creates hair products and presented us with ways to treat and maintain care of afro hair, which requires special attention. She had lots of interaction with the participants during her presentation.
After the various presentations and exchanges, it was time to make room for the buffet of dishes coming straight from Africa.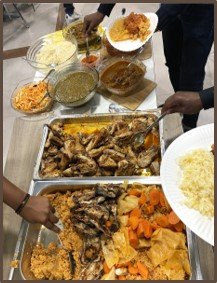 With filled stomachs, the last part of the program took place with a quiz about African culture, which became a lively game among the participants. The winner received a pot of dèguè – a dessert made of curdled milk and millet semolina – and a batch of homemade doughnuts as a prize.
As part of the event, different African artists – IG @iamiguelulrich, and @gmblackqueen – exhibited their paintings in the hall; depicting nature, portraits, and other inspirations with the African theme.
There were 35 participants, among them were Afro-descendants from 15 countries, including Angola, Benin, Burkina Faso, Burundi, Cape Verde, Ivory Coast, Cameroon, the Central African Republic, Comoros, Equatorial Guinea, Guadeloupe, Mali, Rwanda, DRC, and Togo.
There were also participants from France, the United States, Japan, Andorra, and Taiwan. IAYSP France gladly accompanies and supports projects from young people with a similar vision and objectives as IAYSP. By discovering the culture of others, they promote a better mutual understanding needed for creating a world of peace. IAYSP intends to repeat these kinds of celebrations as much as possible and explore other cultures in this vast world.