One Korea One World Initiatives Festival #Benin and São Tomé e Príncipe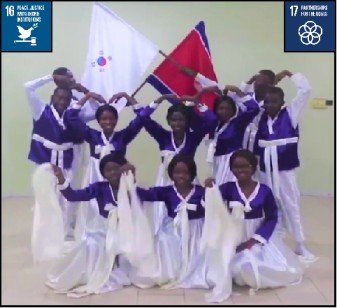 IAYSP Africa held the One Korea One World Initiative (OKOWI) Festival on January 29, 2022. The event served to promote Korean culture to the people of Africa and emphasise the importance of unifying the Korean Peninsula through cultural performances.
Some of the IAYSP national chapters prepared the cultural performances expressing Korean culture and history by dance, song, poem, and skits. Five teams performed during the event. Mr. Koji Matsuda, International President of IAYSP, gave his remarks as the head of judges and encouraged that African youth can inspire many young people in the world and Korea.
The result of the contest was as follows: first place to IAYSP Benin, and second place to IAYSP Sao Tome and Principe.