One-Day Character Education Workshop for the Youth of Yala #Nigeria
This event was carried out in order to educate youth whose parents and family members participated in the previous program. In addition, the workshop focused on helping solve local tribal clashes, which had already taken the lives of three young people.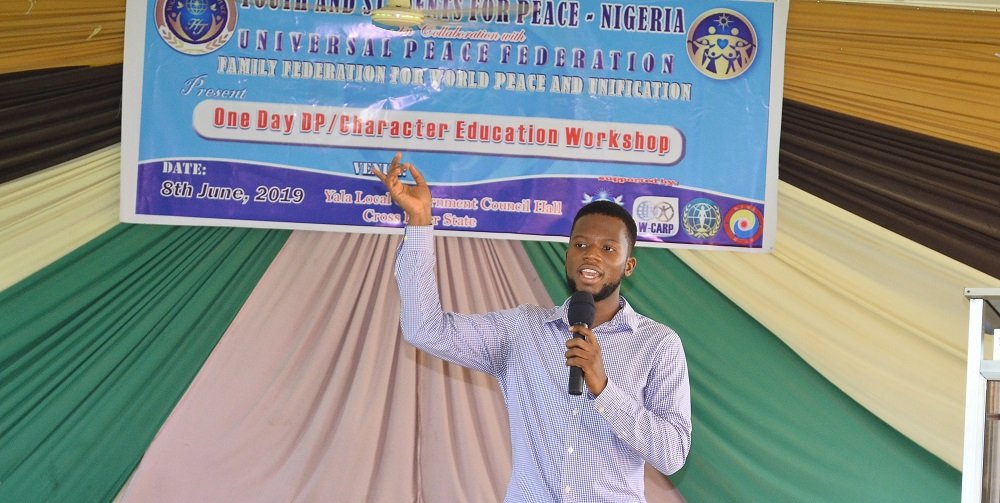 The MC for the event, Mr. Henry Oko, ensured that proceedings were held smoothly. During the program, Mr. Ekpo Raphael Ogar, IAYSP Nigeria President; gave introductory remarks. This was followed by Mr. Paul Jeremiah, special representative from Sun Moon University in Korea; who is currently undertaking his internship in Nigeria, and Mr. Bong-Shim Edward Uke, IAYSP Nigeria Vice-President. They both gave presentations on Hyo-Jeong Character Education. The final presentation was delivered by Mr. Ogar, who placed an emphasis on living for the sake of others and earnestly reached out to representatives from the two rival tribes to restore peace in the community.
Interactive sessions were held allowing participants to contribute and express their views.
The youth conveyed interest in being part of YSP activities and attending the upcoming educational seminar. The elders present expressed how much they desired for all local chiefs and community elders to have been present at the event. They felt very inspired by the content and the manner in which YSP is investing into youth. Mr. Uke gave the closing remarks and certificates were awarded to new YSP members.