Official Launch of the fight against the COVID-19 (Liberia)
Location: Zubah town, Duport road, Paynesville
Date : April 30, 2020
Partner: Restoring Lives Ministries International (RLMI)
# of participants: 25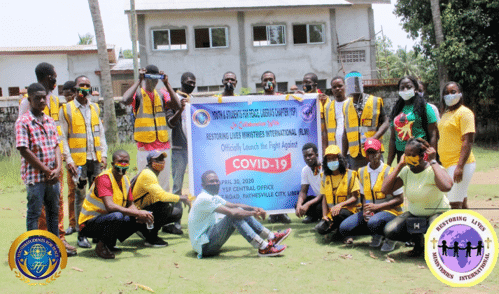 On April 30, 2020, IAYSP-Liberia launched the program, "Fight against COVID-19." Thanks to the cooperation of Restoring Lives Ministries International (RLMI), which fully sponsored and partner with IAYPS.
During the event, there was singing and a performance by a Minister. Members of the candlelight Christian Institute, together with the President, the Communication Director, and the Service Program Director of YSP-Liberia who acknowledged the efforts of RLMI and declared their determination of doing more in "Mama Liberia," their homeland.  
New stickers were presented and put onto the buckets that they planned to distribute to the disabled, widows, at-risk youth , and orphanages in four cities within Montserrado, along with the Tide soap and Clorox that was collected.
The Media House was present as well, and the president of IAYSP-Liberia explained their plan, target, and areas where the activity would be done. Expressing their vision of reaching the fifteen subdivisions of Liberia among others. In the end, they took official photos together as a way to record the first of many programs and activities to come.