International Day of Peace Cultural Festival #Suriname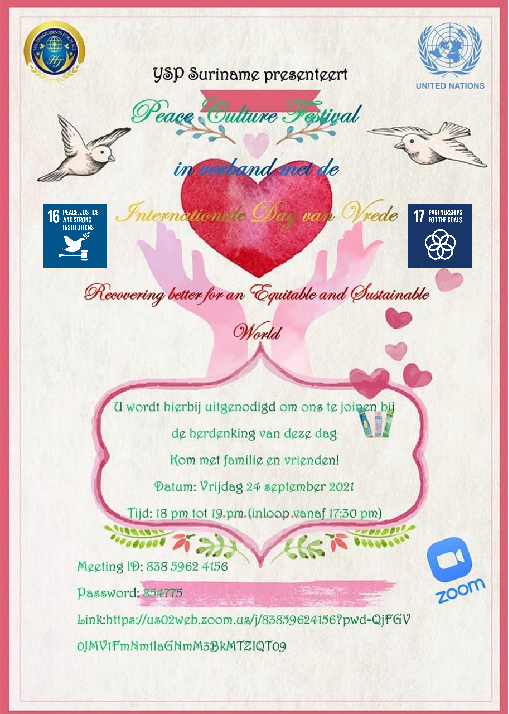 YSP Suriname held a Peace Culture Festival to commemorate the International Day of Peace. Young people and a youth organization representative participated. The festival was held online and proceedings were underway with a presentation explaining the meaning of the International Day of Peace, followed by words about peace from the founder of IAYSP -known as Mother of Peace and her husband – given by the Secretary-General of YSP Suriname, Ms. Silma Rotgans.
Through dance, songs, and poems presented by the members of YSP Suriname, participants could comprehend the meaning and value of peace. Furthermore, a speech was bequeathed by Prechand Angoelal, a seventeen year old, regarding the meaning of peace in his own life. He said that peace means listening to your parents considering they have a wider array of experiences and knowledge to draw upon. Angoelal honestly revealed that he always struggled to control his anger and thought there was no other way to communicate with others, but he came to learn through YSP that you can relate to others through peace.
Afterwards, Raul Rotgans, a nineteen year old, also explained the meaning of peace pertaining to him. Rotgans also stated that peace must begin within the individual through mind-body unity, and from there, it will spread to the world. The festival finished with the dance, 'Let's be filial', in which all participants joyously danced together.