IAYSP Youth Assembly 2021 and S!NERGY Program #Nigeria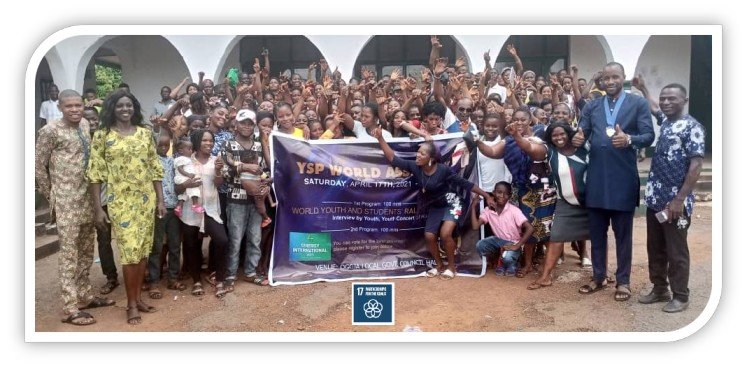 IAYSP Nigeria organized an event to reflect on the IAYSP World Assembly 2021 and S!NERGY program. The World Assembly was well attended in Nigeria, reaching out to over two thousand people, with mobilized and connected individuals across the nation with centres in six states: Lagos, Adamawa, Nasarawa, Cross River, Abuja, and Benue. The event was connected through YouTube on an individual basis.
In Nigeria, the Zoom platform allowed for the connection of all viewing centres with media coverage from News 24 and online media outlets.
Cross River has two centres and each centre recorded the following number of attendance:  Cross River 635, Lagos 200, Nasarawa 100, Abuja 35, Benue 25, Adamawa 45 Peace Club members, and Lagos State 200.
Youth Ambassador for Peace Aze, Coordinated the Ogoja program. In Nkarasi, youth were invited by Pastor Neji.

"The program was inspirational for me, though Nigeria and Africa were not able to get a representative to feature in this S!NERGY.
I feel it's an opportunity for us to reorganize ourselves and encourage more youth to key into the IAYSP Peace designer program that can give birth to sustainable projects that can make entry into the S!NERGY. By so doing, Nigeria will use this remaining quarter to nurture young leaders who will be very committed to this course. In summary, it was very educative and entertaining at the same time, which caught the attention of the youth.
I want to thank the Shin Africa IAYSP for their support to make this a success in Nigeria. We hope to intensify more effort to replicate this program at the national level. Not forgetting our Representative Rev. Imo Nkata for his support and the fatherly role he played. I also appreciate WFWP Nigeria for their support. To all the people who get involve, I must thank you all."
– Ogar Raphael Ekpo