IAYSP Philippines and Misamis Oriental Chapter Orientation and UN Celebration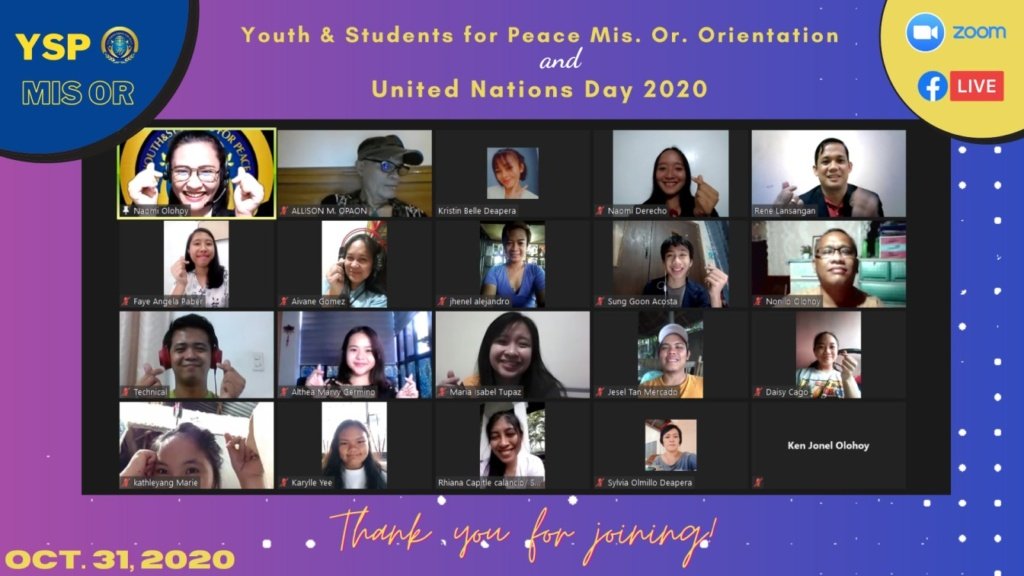 IAYSP Philippines and Misamis Oriental Chapter conducted an orientation and celebration of the United Nations Day on October 31, 2020. As one of the many newly established chapters of YSP Philippines, YSP Misamis Oriental hosted an online orientation to prospect members to secure its foundation and eventually pave the way for expansion throughout other provinces in Mindanao. They also celebrated the United Nations' Founding Anniversary by transmitting peace messages and viewing a replay of the performances of Misamis Oriental during the Young Sounds of Peace Online Concert.

The event was efficacious based on the support of many leading people including: Fr. Errol Nebrao, S.J., the Xavier University Junior High School Chaplain of Xavier University Ateneo de Cagayan; Mr. Rene Lansangan, the National President of YSP Philippines, who gave the welcoming remarks; Prof. Richell Jalipa, the Regional President for Asia Pacific of IAYSP; and Rev. Leo Angelo Halog, the National Chairman of YSP Philippines who presented special messages.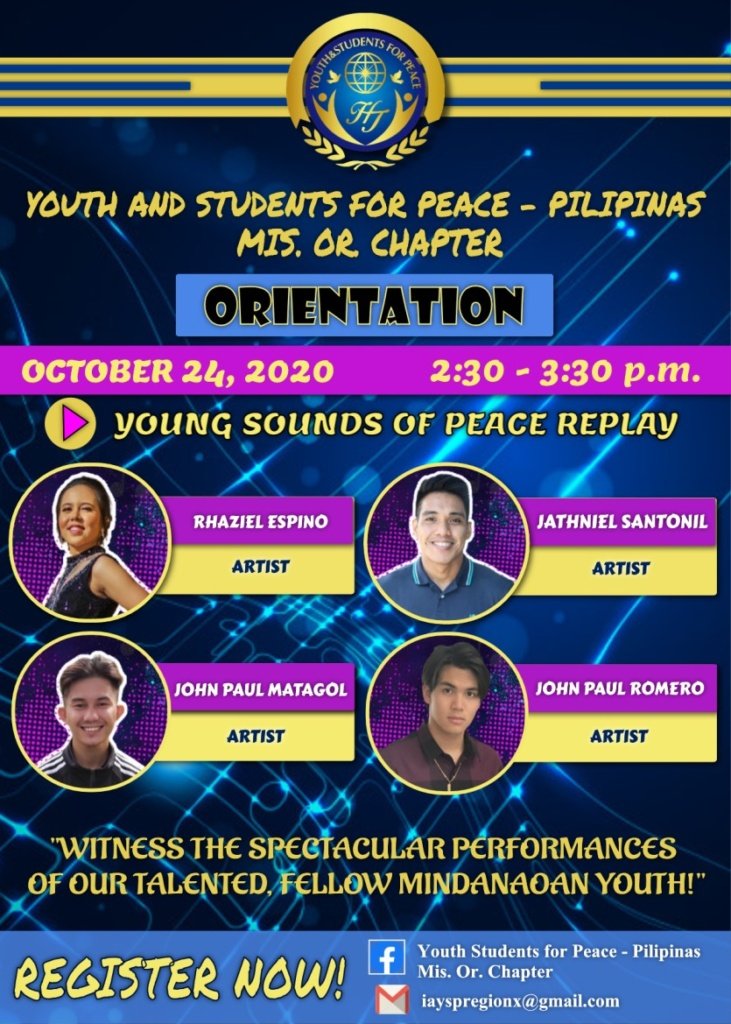 In celebration of the UN Day, recorded peace messages were given by the President of Women's Federation for World Peace Philippines, Ms. Merly Barlaan; Mr. Allison Opaon, an awardee of the Gawad Genny Lopez Jr. Bayaning Pilipino 2009 who has been recognized for his efforts in patriotism and service; along with youth leaders Ms. Arriana Jupakkal, the Executive- Secretary of Youth Da'wah for Peace; Mr. James Ambat, the Secretary of the United Arts and Sciences Student Council Department of Information and Communications Management; Hon. John Mark Tubelleja, the Sangguniang Kabataan Chairman of Barangay Burnay, Gitagum; and Hon. Jesel Mercado, the Sangguniang Kabataan Federation Vice-President of Gingoog City, who gave his speech live in Zoom.

Testimonial videos of invitees in the International Leadership Conference and Rally of Hope were also played alongside the videos of all the recent YSP Philippines activities.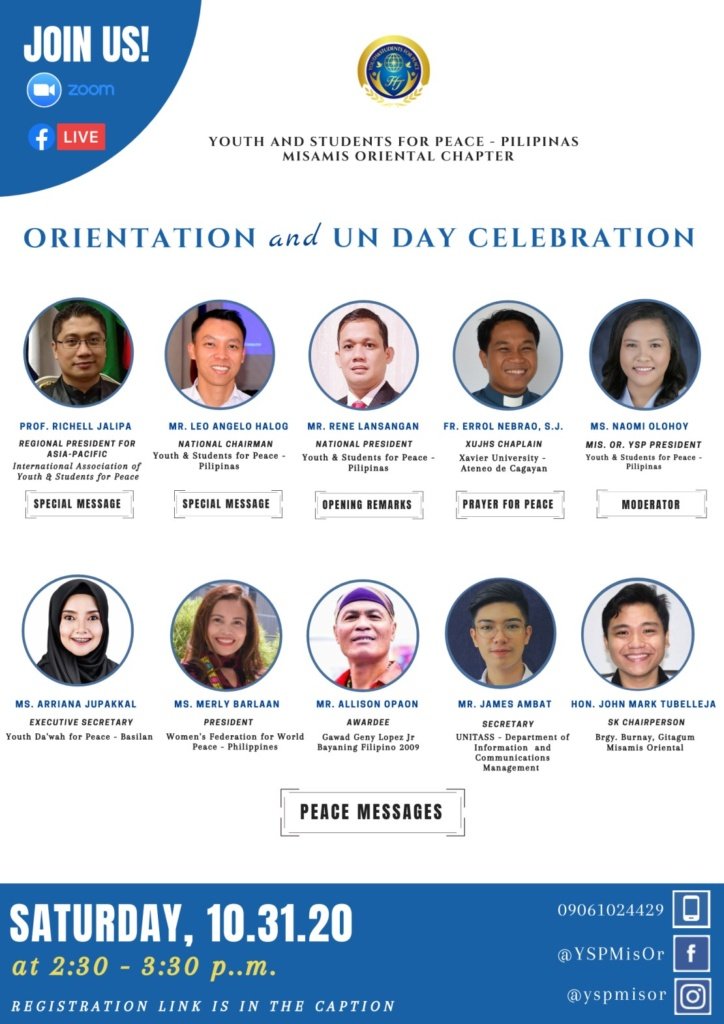 The event was originally scheduled on October 24, 2020, which correlates with the 75th Founding Anniversary of the United Nations but was postponed due to internet connectivity issues. This, however, provided the chapter a chance to reach out to more youth leaders and participants. In the span of a week, a significant increase in participation from invited leaders and participants was observable; there were forty-six registered participants – some of which are youth leaders in their schools or community as indicated in the registration – and sixteen of these participants completed the entire process required for membership; according to the standard set by the chapter President. This process involves registration for, completion and evaluation of the YSP Orientation. The live stream on Facebook accumulated more than four hundred thirty-two views, has reached eight hundred thirty-two people, and has three hundred nine engagements.

Certificates of appreciation and participation in the event were also sent on November 2, 2020, and the token of appreciation was well-received by guest speakers and participants. The chapter surely has made a significant first step through this event.