Conferences and Educational Meetings #Peru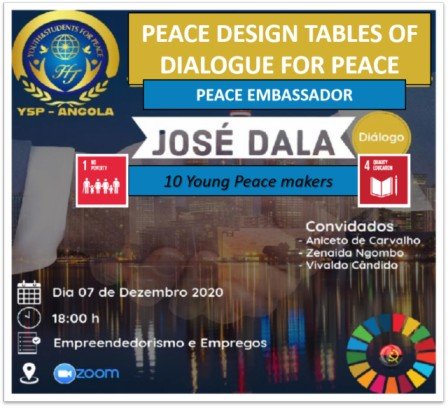 During July, Peru organized many meetings that motivated youth; giving or showing ways to enhance their potential and help society.
COMAS YOUTH MEETING (JUNE 16 AND 23):
The meeting was held through Zoom, where young people shared relevant topics for their personal growth. Each week, one member of the group assumes the responsibility of giving a talk and structuring a new experience.
In the month of June, participants received talks about preventing environmental pollution and the importance of mutual respect. A pleasant atmosphere among the participants was established, which also helped to strengthen their ties.
CHANGE'S AGENTS (JULY 4, 11, AND 18):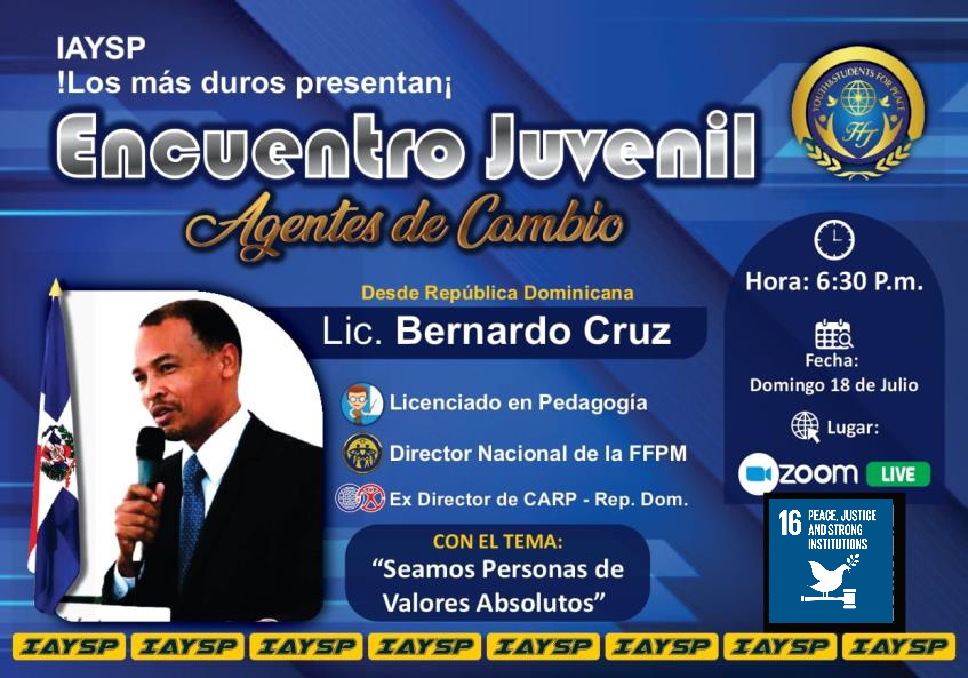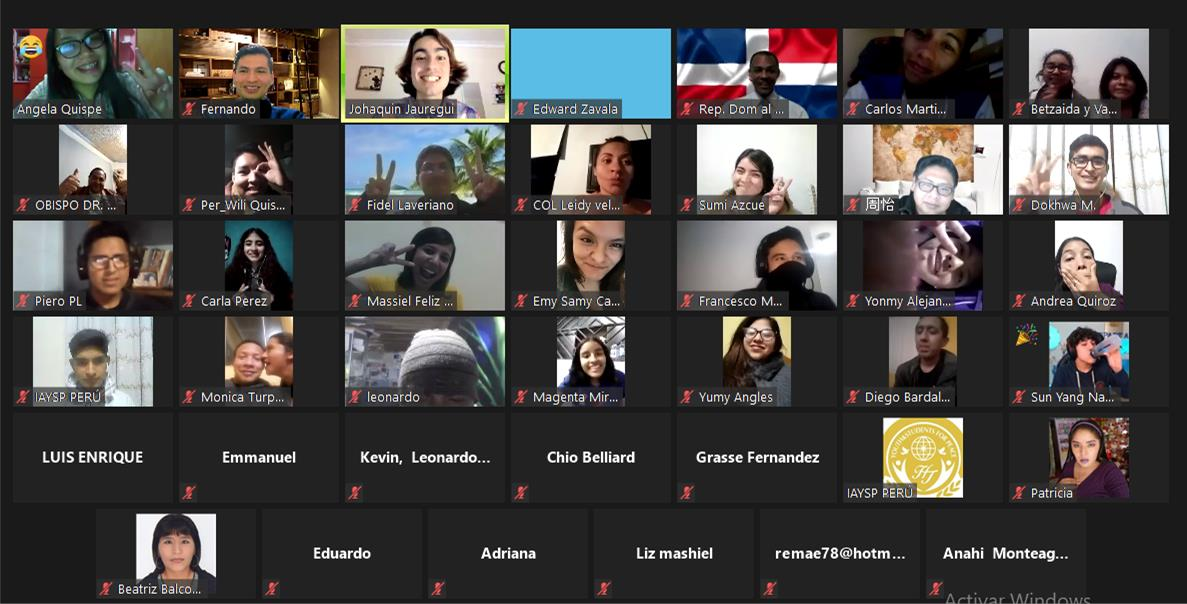 Each Sunday, IAYSP convened on Zoom to participate in the"Agents of Change" program – where they learn principles that will help shape the leaders who guide our society.
This month topics such as "Let's be people of absolute values" and "Responsibility" were shared to provide multiple perspectives to society's challenges. Young people had ample opportunities for reflections and moments of entertainment through games and dynamics, which helped to generate an atmosphere of trust and pleasant interactions that assisted in their character development.
BICENTENNIAL CITIZENS DIALOGUE TABLE (JULY 21):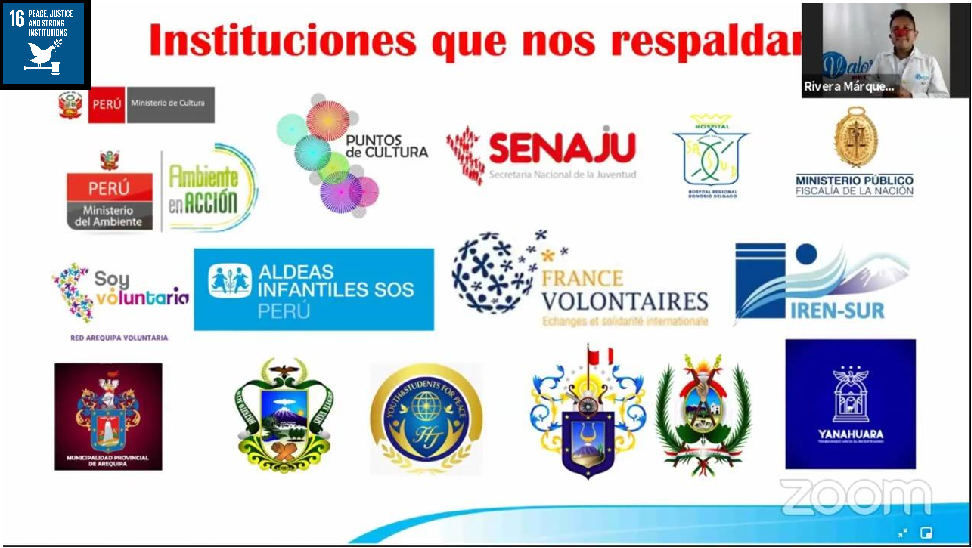 The aim of developing this forum was to publicizing the work of different outstanding youth organizations, during the pandemic, and motivating other young people to participate in youth volunteering.
On this occasion, the young IAYSP Peace Ambassador Carlos Rivera presented the work IAYSP is undertaking together with other organizations.
Many young people were inspired to actively contribute and registered as members of IAYSP. They want to participate in future programs that are being developed.
THE BICENTENNIAL BIOGRAPHY (JULY 25):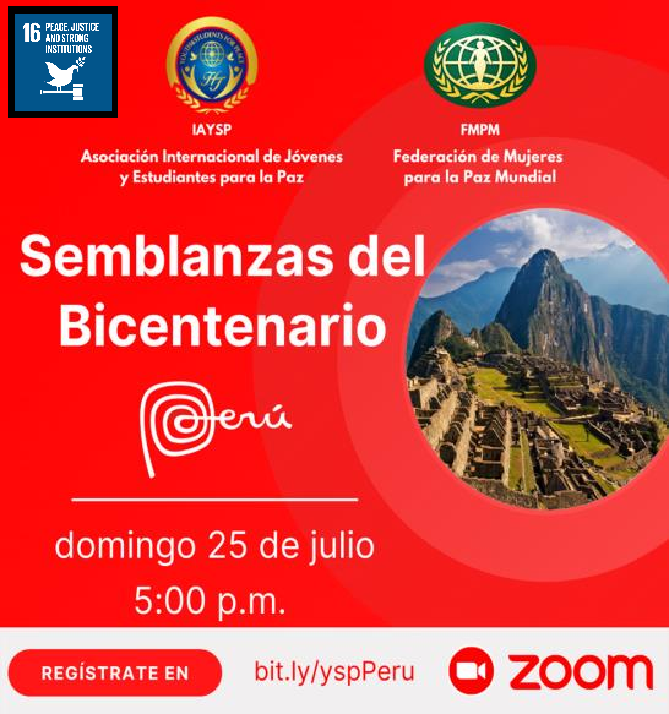 The event was held through Zoom, and also broadcast on Facebook live, commemorating the Bicentennial of Peru.
Great exhibitors participated, sharing the importance of the two hundred years of Peruvian independence, traditions, history of Peruvian heroes, and the origins of their gastronomy as one that is considered one of the best in the world. Likewise, the role and importance of women for the construction of the two hundred years of independence were emphasized, empowering young people to be hopeful and contribute innovative ideas.
KOREAN CLASSES: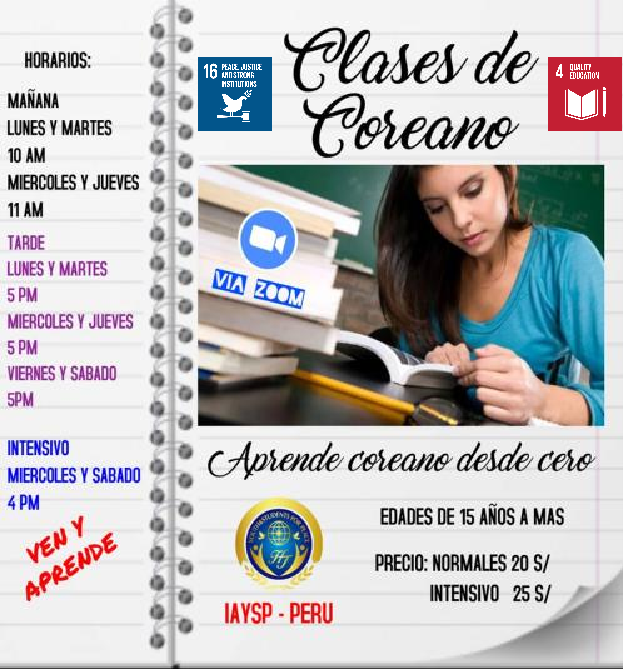 Korean classes are being held from Monday to Saturday at different times and for different age groups. Young people strive to learn this language through interactive and dynamic classes, where students are tasked with homework to reinforce the language in the home environment. Students of all ages are drawn to Korean culture and its rich tradition that has rapidly progressed technology in record time around the world.