Green and clean project (Senegal)
As a backgrounder, Green and Clean are one of the principal projects of YSP-Senegal since before its official launch in January 2019. Its goal is to change the two faces that compose a nation, the city, and the mentality of the citizens into a greener and cleaner one.
In the past, we could not get the participation of both authorities and the community, which made it hard to bear fruits. But this time, the results were different because the mayor of Tivaouane Peulh and the Prefect of Bambilor to the Ministry of Environment presented and supported the project.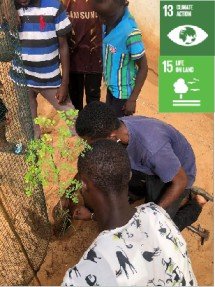 This activity went on for multiple days. The chosen place was none other than the alleyway behind the YSP Center. We had the presence of the authorities on the first day. During that day, the first tree was planted by all the participants as a symbolic start to the activity.
The following days, YSP members and a group of youngsters went to meet the families living in the area to present the project but also sensitize them on how to care for the trees that each household would be in charge of raising.
The afternoons were to plant said trees. Each family helped with the plantation and did the first watering of their tree.
On Sunday, the different family's representant met up with YSP to talk about the weekly cleanup and close the activity.
Although it may seem like a small step forward, we hope that their mentality will leap bounds as they are caring for their trees.