Favelinda – Revitalization in Communities #Brazil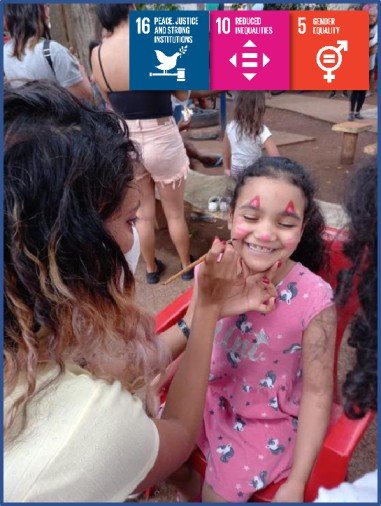 The Favelinda initiative performed children's face painting in collaboration with numerous partnerships. Together with the help of volunteers, more than five hundred children could receive a face painting.
10.10  – Working in partnership with the residents of Jd. Vaz de Lima, the celebration marked the return of volunteers to the first location of the Favelinda paintings. Ninety children participated.
12.10 – WFWP Jd São Luís, who built the bridge with the residents, joined forces to face painted; where one hundred twenty children attended.
16.10 – Through partnerships built upon in past initiatives, Bloco Ecosampa extended an invitation to the Jd são Francisco neighborhood. One hundred fifty children were involved.
10.23 – At the invitation of AMPM Jd Mitsutani, the final face painting was carried out with one hundred forty children who attend the Associação Nara Chaves; with the participation of Ambassador Tom who works actively. He invited YSP to utilize the space for future initiatives.