Estorya Ta: Mental Health Webinar Series Episode Two #Philippines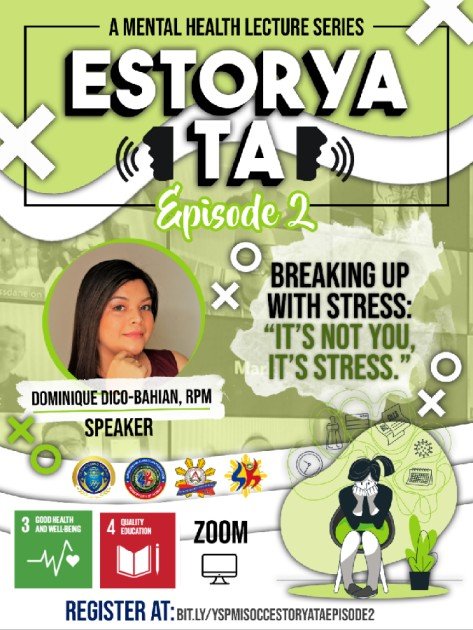 For the second time on February 13, 2021, Youth and Students for Peace (YSP) Philippines of Misamis Occidental Chapter conducted a Mental Health Webinar Series titled, "Estorya Ta" through Zoom. The theme revolved around, "Breaking up with stress: It's not you, it's stress." The webinar was held in association with the Sangguniang Kabataan Federation of Aloran and Calamba, and Supreme Student Government Misamis Occidental National High School (MONHS).
Ms. Dominique Dico-Bahian, a registered Psychometrician, a Learning and Organizational Development Specialist of Republic Biscuit Corporation (REBISCO), was the guest speaker. She graduated with a Bachelor of Science in Psychology and became a part-time Psychology Professor at the La Salle University of Ozamiz City. Dico-Bahian also facilitated learning sessions targeting different competencies needed in the workplace, including time management, motivation, mindfulness, effective communication, and stress management.
said Ms. Bahian. She added that when we respond, there is the stimulus. When there is a stimulus, it will tend to have a response.
she said. According to her, that stress is subjective. It is not a psychiatric diagnosis. Only the person experiencing it can determine whether it is present and how severe it feels.
She said that we cannot avoid stress, but we can control and make some strategies for stress relief. Always remember that you have the power over your mind – not the external aspects – realize this, and you will find strength.
Mental Health is very important, especially to the youth nowadays, to achieving a better generation. It places them with increased responsibility, and it gives them a greater opportunity as well. The webinar aimed to educate people on how they could cope with the situation and stress brought by the present health crisis.