Character Education in Gabon, Awareness on HIV / AIDS and STIs

Operations commenced in March 2019 with the training of IAYSP staff. From March 25 – 31, 2019, a workshop on character education was held with nine young people and student participants coming from three provinces; who expressed satisfaction with the education received. Subsequently, we started to reach out to the students around Omar Bongo University (UOB) on April 14 and 15, 2019 and the University of Health Sciences (UHS) a week later.

Awareness on HIV / AIDS and STIs, along with character education sessions, were held in a school and professional training complex, "College Brother Marcaire," from May 21 – 22, 2019. In the vicinity of two hundred students attended the sessions, which focused on raising awareness of the need for sexual responsibility and to teach about "goodness."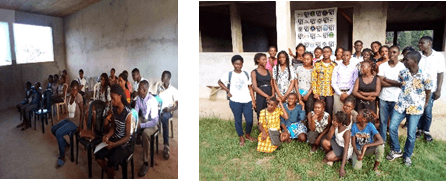 On Saturday August 31, 2019, a conference on character education was held at the Unfinished School in Bakota. The conference was held under the theme, "Resolving Fraternal Rivalries" with the participation of twenty-six people – from whom seventeen also participated in other activities.
On September 12 and 13, 2019, a conference was given in collaboration with the young people of the Bread of Life church. It was a two-day conference preceded by a testimony session, which also occurred across two days, conducted in the surrounding area from September 10 – 11, 2019. The first day saw the participation of twenty people, and the second day brought thirty attendees. In total, this program accumulated the participation of fifty people; of which more than fifteen wished to continue taking part in IAYSP activities.