Billion Tree Planting & Growing Project, River Cleanup and Food Giving #Peru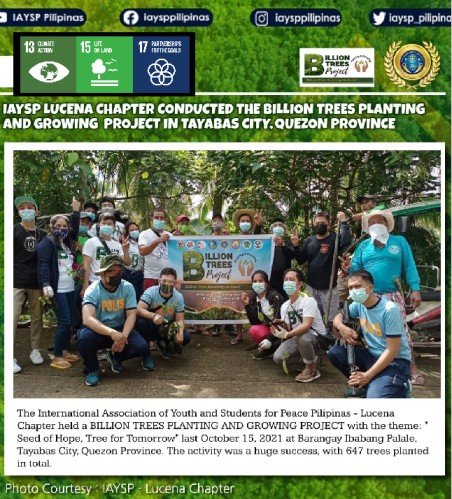 The International Association of Youth and Students for Peace Philippines  Lucena Chapter held a Billion Trees Planting and Growing Project with the theme, "Seed of Hope, Tree for Tomorrow" on October 15, 2021, at Barangay Ibabang Palale, Tayabas City, Quezon Province. The activity was a tremendous success, with six hundred forty-seven trees planted and fifty participants.
With the participation of its partners:
Barangay Officials of Barangay Palale, SK Chairpersons of Barangay Palale, The United Methodist Church Mission-Dalahican, Quezon Science High School (QSHS) – Youth for the Environment School Organization (YES-O), Provincial Environment and Natural Resources (PENR), Philiippine National Police (PNP) Tayabas, Guardians Lucena, Committee on Environment and Natural Resources (CENR) Tayabas, Tong-Il Moo-Do (TIMD), Family Federation for World Peace and Unification (FWPU), Japan Task Force (JTF), National Leadership Training Program (NLTP) and Volunteers.
On October 24, IAYSP Bohol conducted another tree planting and growing project at the Municipality. IAYSP Bohol worked in partnership with various organizations in the municipal, such as: SK Federation of Loon, PYDO Bohol, Province of Bohol, BEMO, Municipality of Loon, Barangay Basdacu. The event was successful with thirty participants imparting their time, and managing to plant three hundred trees.
The event is related to SDG 13, Climate Change, as the activity leads to combat climate change and its impact by planting trees. SDG 15, Life on Land, since it restores the habitat of the insects and animals in the area, and SDG 17, Partnerships Towards the Goal, in that the activity was held through partnerships with different organizations that yearned to make changes for a better world.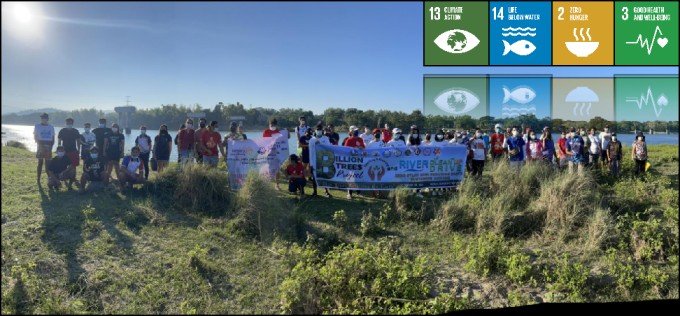 On October 30, there was a follow-up activity by MOA Signing of Billion Trees and Growing Project at Marand Beach Resort that took part on September 12, 2021, held at Acao, Bauang, La Union. This activity was carried out in three parts: Tree Planting and Growing Project, River Cleanup Drive, and Simple Food Giving to the residents of Acao. An aggregate of hundred participants took part.

This follow-up activity was in participation with: The LGUs of Bauang, La Union headed by the Municipal Mayor, Hon. Menchie C. Lomboy – De Guzman, MD., The Universal Peace Federation R1, INC., led by Mr. Froilan Matbagan Jr.; The SK Federation of Bauang, headed by Hon. Demeliz Nudo; the IAYSP La Union, headed by Ms. Blessie Ramos; The Greater Good Aggregates, headed by Engr. Felix Sanchez; Selected Barangays in Bauang La Union, led by respective captains; The Rotary Club of Bauang District 3790, led by their President Mr. Edgar Roman DL. Nudo; the DENR and MGB R1, headed by Mr. Socrates G. Gaerlan; together with other NGOs and youth volunteers from Bauang, La Union.