"And so this is Christmas… And what do you do?" #Austria #Moldova
On December 15, IAYSP Austria held an online event, "And so this is Christmas…and what do you do?" This event, where twenty-five participants attended, was held to celebrate Christmas and understand various Christmas traditions in different places of the world.
After an icebreaker activity, four speakers presented Christmas traditions in Moldova, Burkina Faso, and Venezuela.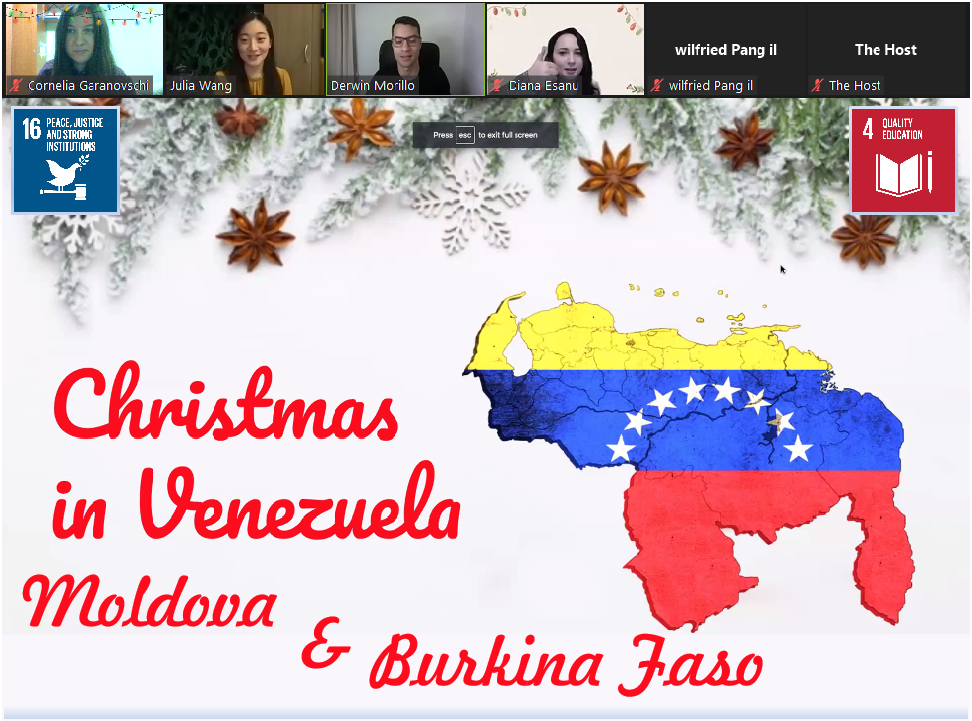 Some curious facts the participants acquired about Moldova:
Christmas in Moldova is very picturesque, and they usually spend it with the family.
It is celebrated on January 7 and 8.
Specifically, they commemorate the birth of Jesus.
The Christmas tree is decorated either on Christmas Eve or on January 1.
There is a star at the top of the tree that represents the star of Bethlehem.
One of Moldova's traditions is carolling; where children go singing door to door and receive a special piece of a traditional bakery as a gift for their performance.
There is a game called "GOAT," an ancient custom; where a goat mask is accompanied by singing and music to bring abundance and good luck for the new year. The "goat" is finally killed, symbolizing the year that ends and gets symbolically buried.
"Plugusorul," an ancient musical tradition involving men and boys singing with a traditional instrument called "buhai" and receive nuts, pretzels, or honey as an appreciation from women.
The "Bear" tradition has deep roots in Moldova's history. For the new year, people dress as bears, a revered animal in Moldova's ancient times, the symbol of fertility. A dance with bear costumes is thought to banish demons from the household.
As for food, some traditional meals at Christmas time in Moldova are pork dishes and traditional bread called "craciunei."Some curious facts the participants grasped about Burkina Faso:

There are many religions in Africa, but many states are Christian and celebrate Christmas. In Burkina Faso, they celebrate on December 25.
Many solidarity organizations give clothes and food to the poor.
The youth also meet to celebrate as groups in the cities.
Because it does not snow and it is warm, the Christmas decorations are adapted to the climate, so there are no Christmas trees as compared to in Europe.
Christian families share meals with Muslim families, which create a beautiful feeling of harmony in society.
Similar to during Christmas, they celebrate New Year's Eve with the family, but together with friends.
Some curious facts the participants attained about Venezuela:
The country is mainly Christian.
Poverty is a big issue in the country, so during Christmas is when many organizations give out presents to children.
The climate around Christmas time is warm, just like in Burkina Faso. Due to this, pine trees do not grow in Venezuela, so Christmas trees are artificial and made of plastic.
Christmas is celebrated on December 24 and children open gifts at midnight, as Jesus is believed to have been born at that time.
Part of traditional decoration in many households is Nativity Scenes. Baby Jesus figure is unveiled only on December 24 by the youngest child of the family.
Families gather to cook the dishes together for Christmas Eve. Among the traditional meals, there is chicken salad, pork, and a specialty called "Hallaca," consisting of different kinds of meat wrapped in banana leaves.
A traditional music style that is only played in December around Christmas time is called "Gaita."
There is a tradition of "el cochinito" (little pig). All shops place a small piggy bank by the cash register, and the change goes in the piggy bank. Later, the collected money is divided among the workers.
The "estrenos" tradition. On December 24 and 31, children wear elegant new attire that they do not usually wear throughout the year. It is believed that Jesus visits the house, so people should be nicely dressed.
The tradition of "burning the old year." A puppet is burnt on December 31 to symbolize letting the last year behind.
People often run around with luggage at the end of the year, as it means that in the new year, they will travel a lot.
People wear specifically colored underwear for New Year's Eve: yellow stands for prosperity, while red for love.