Third Service Project for the Victims of Typhoons #Philippines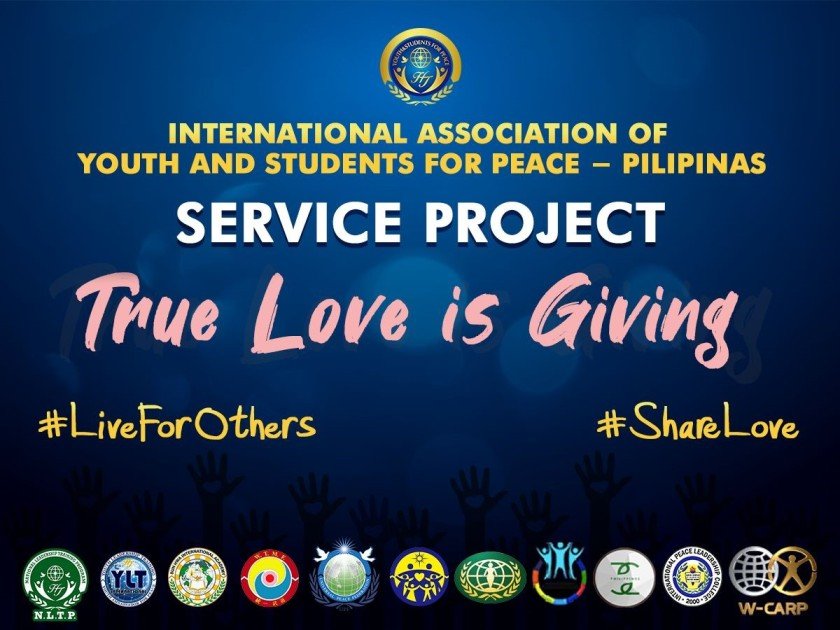 The International Association of Youth and Students for Peace Philippines (IAYSP Philippines), together with the HJ Youth Leadership Training International (HJ YLT International), went to Brgy. Daraitan, Tanay, Rizal on November 29 – 30, 2020; to conduct a service project and community service offering aid and support to the affected families of Typhoon Ulysses (Vamco). Typhoon Ulysses hit the Philippines on November 12, 2020. The project entitled, "Tulong-tulong sa Pagbangon" (Recovery Assistance) was pioneeered by the Family Federation for World Peace and Unification, Universal Peace Federation, and Women's Federation for World Peace (WFWP), in cooperation with the Local Government Unit (LGU) of Brgy. Daraitan.
Daraitan is a barangay belonging to the municipality of Tanay, Province of Rizal in the Region IV CALABARZON area in the Philippines; which consists of approximately two thousand families. Among them, one hundred fifty were widely affected and damaged, three hundred sixty-three were partially damaged, and thirty-six were minimally affected.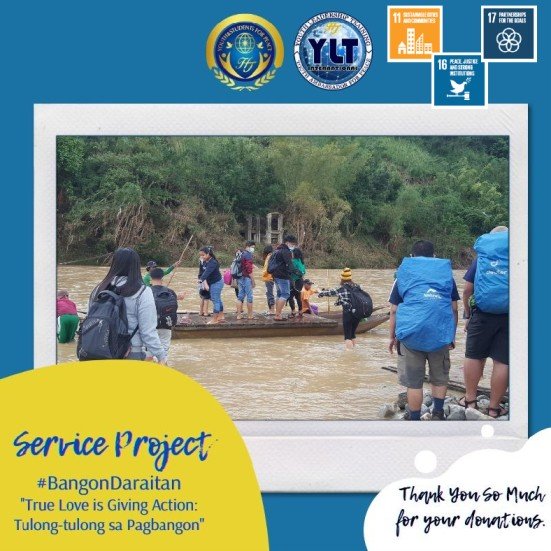 According to the Local Government Unit of Brgy. Daraitan, data showed that there are also large sources of economic infrastructure and agriculture tragically destructed and destruction in the area; including calamansi and coconut plantations.
About one hundred fifty families were eligible recipients of aid and support. Rice, basins, and pails were given to, at the very least, help provide for their basic everyday needs. HJ-YLT International assumed the initiative to ensure twenty families could receive mini-stoves and galvanized roofs to help them start restructuring their houses.
Moreover, thirty-two young volunteers from IAYSP Philippines, HJ-YLT International, World Tong-Il Moo-Do Federation, and International Peace Leadership College, joined and participated in the relief operation and community service.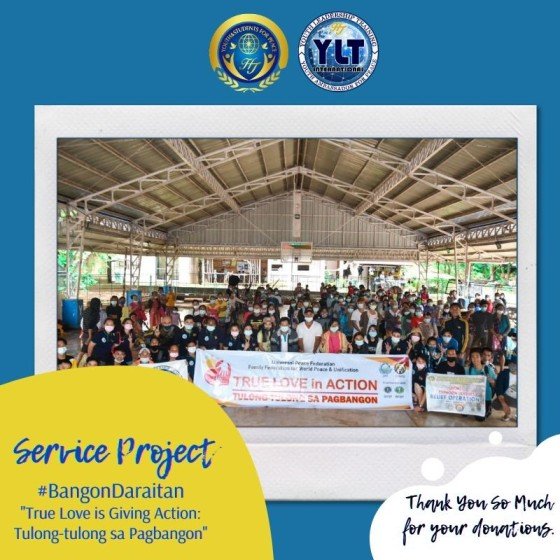 They were involved in cleaning the houses that were vastly destroyed by the typhoon. The participants gained a lot from this experience as they emerged themselves in the circumstances that had entrenched the community; broadening their perspectives.
The young volunteers who participated experienced deep realizations through meeting and talking with the families who witnessed and experienced the effect of the typhoon – they were able to better understand the suffering heart of the victims. This inspired them to make a strong determination in taking action and responsibility, especially in taking care of the environment and highlighting the importance to realizing their role in the community.
The sight of smiles on the peoples' faces motivated to the young volunteers to do more and take action.