YSP Choir Activity (Brazil)
IAYSP Brazil prepared the YSP Choir Activity during August, and its activities and rehearsal officially started on September 9, 2020.

At first, the intention was to set up a virtual choir to record a specific song called "Peace starts with Me "Of the Vocal Livre group, which brought messages of hope and peace in this moment of world pandemic. But it coincided that an event for peace would be held by IAYSP Latin America, "Artists for Peace," so it became an activity whose objective would be to present the music during the event.
YSP Choir has the participation of 17 people, including singers and editors from various members of Brazil, Angola, etc. The rehearsals were carried out via Zoom, three times a week. The results and final work came up altogether during the event, and days later, published on the social networks of IAYSP Latin America.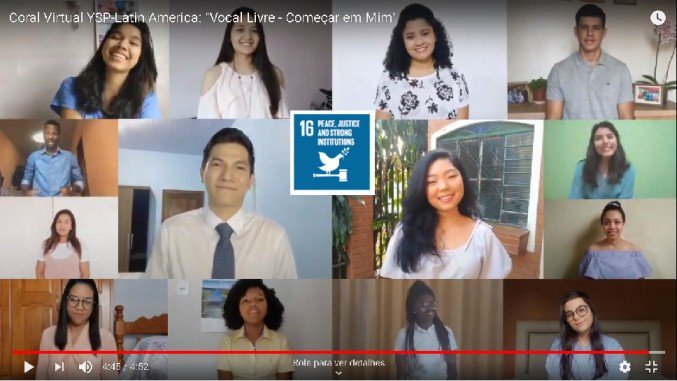 Check out the link right below to listen to the song. They left a quote in Portuguese at the end of the video that summarises the meaning of the song, which you can read it at the bottom of this article as well.
https://www.facebook.com/ysplatinamerica/videos/786128625552546
Be a hero of Love and a hero of Heart. We are born by Love, We grow by Love and We live by Love. Accomplishing this is the highest purpose of our lives.

Sun Myung Moon