Youth Peace Camp and Character Education Program #Philippines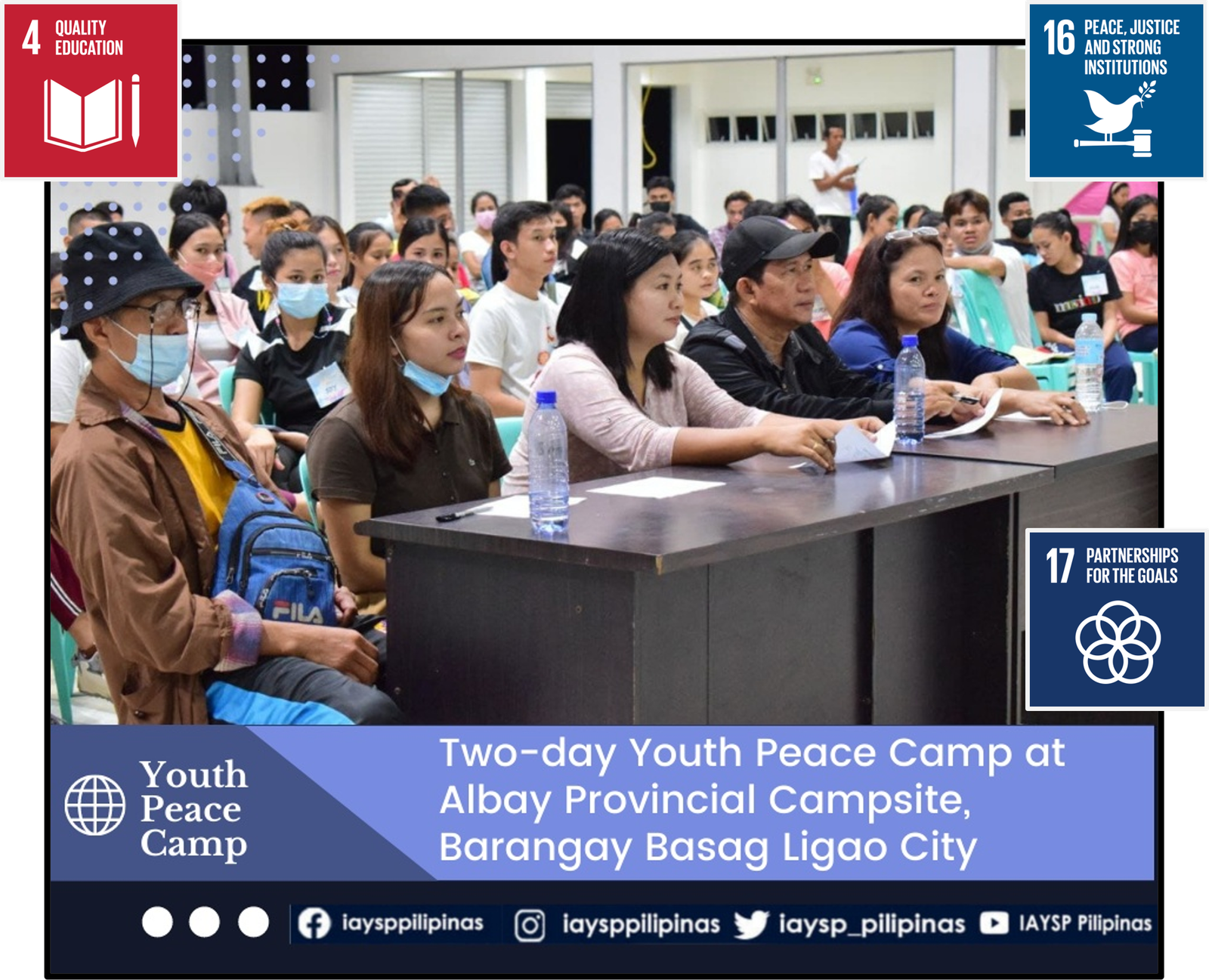 The International Association of Youth and Students for Peace – Bicol Chapter hosted a two-day Youth Peace Camp at Albay Provincial Campsite, Barangay Basag Ligao City; with 111 participants, including UPF Scholars and various VIPs.
The activity was organized by Mr Ronan Bias, the President of the Bicol Region; along with Ms Rica Marfil, the 2020 International winner of S!NERGY; and officials. The program was carried out from December 18 – 19, 2021; providing meaningful and enjoyable experiences for participants.
It was also a Christmas and end-of-year celebration organized in collaboration with UPF Bicol, Filipino-Japanese Community, and the Albay Provincial Youth Development Office is an immense success.

Also, YSP was invited twice to speak about Character Education by the Sangguniang Kabataan Federation of the Municipality of Clarin, Barangay Pan-ay at their Children and Youth Summit 2021 at Laplaya Beach Resort, Jimenez; and their end-of-year and Katipunan ng Kabataan at Tambulig Mountain Spring Resort, Zamboanga del Sur, on December 20, 2021. YSP-Misamis Occidental representatives included: Mr Kenneth Jhester P. Haim, Vice President-Internal Affairs; and Mr Joshua Lumasag, Finance Officer.
On the first occasion, Mr Kenneth shared his expertise and knowledge regarding our program with over 30 youth in Barangay Pan-ay, Clarin. The activity highlights the great partnership between YSP-Misamis Occidental and the Sangguniang Kabataan Federations of the various cities and municipalities of Misamis Occidental.

On the second occasion, the event was attended by YSP-Misamis Occidental representatives; Mr Irl Sayson, President; and Mr Ace John Mutia, Vice President of External Affairs. Both shared their expertise and knowledge about the program with over 75 participants.
As a result, Sangguniang Kabataan Federation President of Bonifacio resolved to incorporate a wider range of adopted YSP projects in their barangay and municipality during the following year, 2022.