Youth Learning Program Drug Prevention & How not to go down the wrong path (Suriname)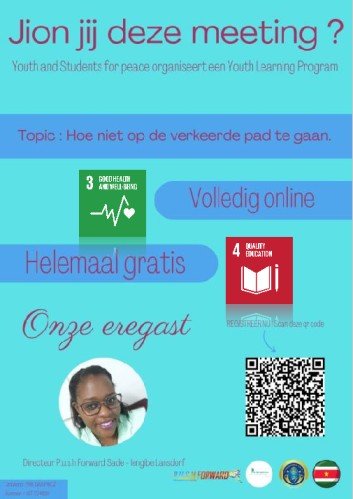 On October 22 and 29, 2021, the YSP-Suriname homegroup (Youth Powa) held two Youth Learning Program sessions about drug preventions training, presented by Mr. Milton Bisschop, Head of Youth affairs from the Suriname Police Corps (KPS), and Mrs. Sade Lengibe-Lansdorf, director of P.U.S.H.
Forward NGO her session was about ways not to go down the wrong path.
Both sessions were very motivational, whereby all participants came
to know and could see through the presentations how destructive it is when we as youth don't behave well and the result of someone going the
wrong path. How not only does it destroy your mental and physical health, but also everything surrounding such a person.
In the end, they were happy for the education received and said will reflect in becoming a better student and youth with character.