United Nations 75th Anniversary #Philippines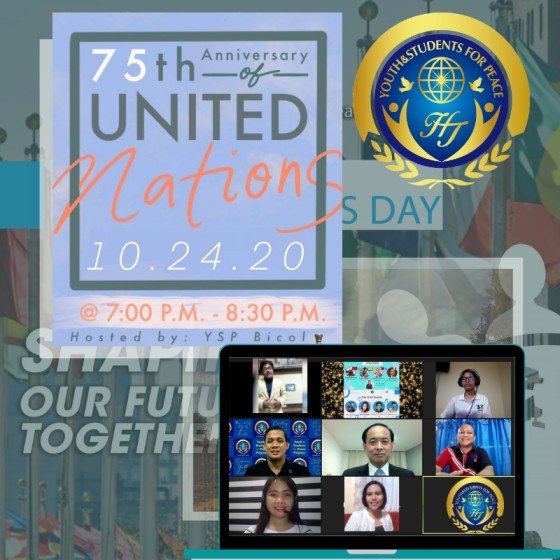 On October 24, 2020, the Youth and Students for Peace Philippines Bicol Chapter initiated an online program in celebration of the 75th Anniversary of the United Nations with the theme, "Shaping our Future Together" – under the supervision of the National Office of the Youth and Students for Peace Philippines through Youtube and Facebook Live hosted across Zoom.
Three international speakers from Morocco composed this online program; Ms. Loubnazohra Aissaoui, from India; Mr. Shivaji Deshmukh, and Japan represented by the International President of IAYSP, Mr. Koji Matsuda. Also, there was one local youth leader in the Philippines representing the Local Youth Development Office of Bicol, Mr. Rhondon Ricafort. The speakers and participants were welcomed by YSP Philippines President, Mr. Rene Lansangan.
The purpose of carrying out such an event was to once again acknowledge the creation of the United Nations and its existence; which has resulted in impactful changes in many countries around the world. Ms. Joan Tampioc, Philippines Bicol Chapter President, acted as moderator.