LEADERS' Connect SK EDITION (Philippines)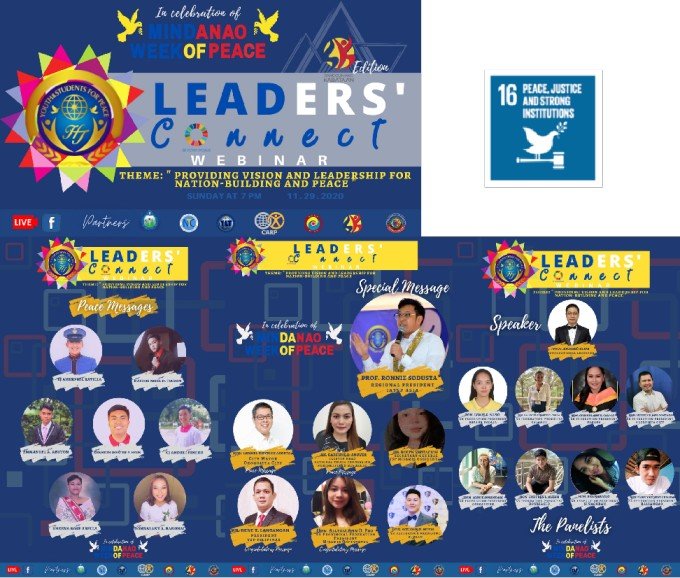 The Youth and Student for Peace Pilipinas Misamis Occidental Chapter, together with its partner organizations: the World Collegiate Association of Research and Principles (WCARP), Youth and Student for Peace Pilipinas (YSP), National Youth Commission North Eastern Mindanao (NYC), and Sangguniang Kabataan (SK), have been involved in organizing the Leaders' Connect Webinar Series in celebration of Mindanao Peace of Week 2020 with the theme: Providing Vision and Nation-Building and Peace, which had been aired live on Facebook on November 29, 2020, started at 7:30 pm and ended at 10: 20 pm.
This event involved nine (9) panelists, as Sangguniang Kabataan Federated Presidents of various municipality and cities in Misamis Occidental. Due to the low internet connection, some weren't able to join the webinar. But the present were Hon. Heinrich Von Gonzaga, SK Federated President of Oroquieta City, Hon. Rea Naranjo, SK Federated President of Sinacaban, Hon. Maria Princess Angel Canda, SK Federated President of Calamba and Hon. Philip Jon Axel Yonting, SK Federated President of Tangub City. The event was held to realize and value the Principles of Nation-Building and Peace, having Prof. Richell Jalipa, International Lecturer of IAYSP-Asia as the main speaker. The event had as well invitees for a special message, congratulatory messages, and peace messages. Professor Ronnie Sodusta, Regional President of IAYSP-Asia, was invited and gave a remarkable message. Also, Mr. Rene Lansangan, President of YSP Pilipinas, and Hon. Alyssia Ann Pao, SK Provincial Federated President of Misamis Occidental was invited for their congratulatory messages.
For the peace messages, Hon. Lemuel Meyrick Acosta, City Mayor of Oroquieta City, said: "I do not doubt that this organization will be a good training ground for you. Here, you will be molded to become good and abiding citizens that not only lead but mostly serve."
And Ms. Karrene Añover expressed her congratulations and peace message. The new members of our chapter have also expressed their peace messages in a 60-second video.
The Secretary-General of YSP Misamis Occidental, Rolyn Chris Visitacion, and the project head and SK Federation President of Aloran, Hon. Ace John Mutia hosted it.