International Youth Day #Philippines
The Youth and Students for Peace Philippines (YSP), in partnership with Hyo Jeong-Youth Leadership Training Program (HJ-YLT), organized a webinar in celebration of the International Youth Day on August 12, 2020. The purpose of commemorating this program was to support the contributions of youth in local, national, and International Sustainable Development Goals.
The theme for UN International Youth Day is, "Youth Engagement in Global Action. Here, sixty-six participants across the globe participated together with local and international guest speakers.

Dr. Julius Malicdem, Sub-Regional Director of Southeast Asia, Universal Peace Federation, gave the opening remarks. He quoted from Dr. Jose Rizal in his book El Filibusterismo, "Where are you, you children who must embody the vigor of life that has fled from your veins, the purity of ideas that has become in our minds and the fire of enthusiasm that has gone out in our hearts? We await you. Oh, youth! Come, we await you!" This is a message of hope that talks about the importance of youth roles, affirming that they are crucial to bring change to our nations and the world.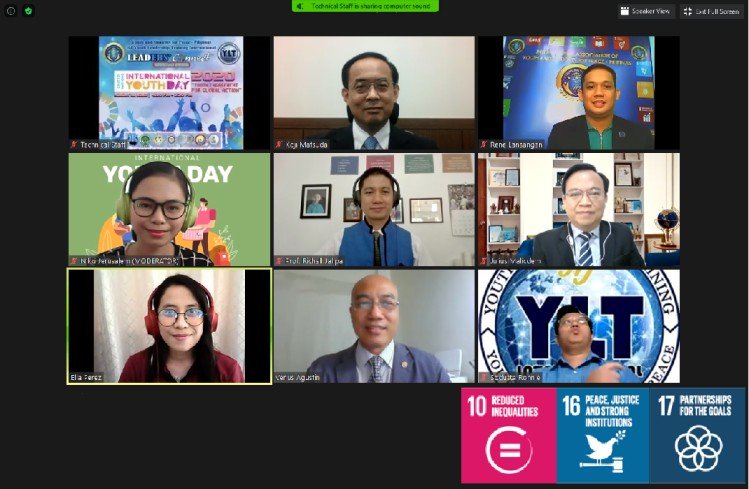 The event became exceptional with the presence of International President of Youth and Student for Peace, Mr. Koji Matsuda, as he asked the youth by quoting the late 35th President of United States, Pres. John F. Kennedy, "Ask not what your country can give for you, ask what you can do for your country." He emphasized how the potential of the youth in nation building by reviving the moral values and core values of YSP: responsibility, integrity, service, and empathy.
Chairperson of National Youth Commission, Hon. Ryan Enriquez gave a special message. He said, "The National Youth Commission will spearhead the youth in honing leadership for Generation Z. Youth must value honesty, integrity, and love to God and the country. " In the time of COVID-19, youth should be optimistic and accomplish alternative activities such as gardening, online selling, and cooking. Enriquez concluded his message by reminding youth to always seek guidance from above.

The Josol Brothers, Mr. Philson and Philcob Josol, performed beautifully as they sang "Still Breathing" by Green Day. The Hyo-Jeong Youth Leadership Training Program team presented a dance and heart touching video presentation as they expressed their desire to inspire youth who lose their hope in fighting anxiety and depression.

On the theme, "Youth Engagement for Global Action," YSP creates a platform for organizations to showcase activities and projects that make an impact and create change in society. Dr. Venus Agustin, Secretary-General of World Tong-Il Moo-Do Federation, conveyed a brief presentation through which he modelled the Zero to Hero program that raises youth from nothing into something. The program has helped out-of-school youth to enroll in school and become disciplined through Tong-Il Moo-Do. A presentation made by Mr. Ronnie Sodusta, President of HJ Youth and Leadership International, expressed how excited he is to help young people through his organization's online activities "YLT Talk."

Next, there was a presentation by Ms. Ella Mae Perez, Vice-President of NCR, World Collegiate Association for the Research of Principles Philippines. She shared interfaith activities of the organization bringing together brothers and sisters of faith through universal principles; as we are one family under God despite cultural difference, beliefs, and customs.
In a presentation given by Mr. Rene Lansangan, he explained the vision and mission of YSP Philippines that aligns with supporting the United Nations Sustainable Development Goals.

The program ended with congratulatory remarks by Prof. Richell Jalipa, Regional-President of IAYSP. He expressed to all viewers to come and join the organization's online activities as the youth of today are confronted with the challenge of taking action.