YSP Inauguration in Dominican Republic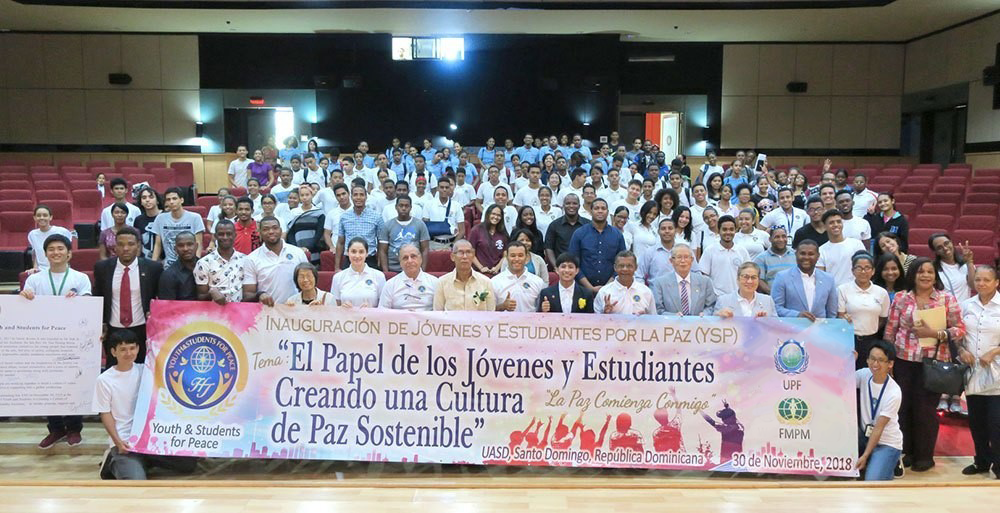 Youth and Students for Peace (YSP) is now in the Dominican Republic. On November 30, 2018 YSP was inaugurated at Auditorio Manuel Del Cabral, Universidad Autonoma de Santo Domingo (UASD) with the theme" The Role of Youth and Students in Creating a Culture of Sustainable Peace."  5 schools and 2 universities participated in the program. A total of 280 students, youth leaders and professors from different cities had gathered for the inauguration. The youths showed their performances by dancing and singing. Professor Reyes, one of the professors of Universidad Autonoma de Santo Domingo (UASD) welcomed everyone.
The program was divided into three parts. The first part was the Pure Love Lecture given by Mrs. Francisca, Lecturer of Women's Federation for World Peace. She gave a compelling lecture to the participants about the importance of purity and the true meaning of marriage. A Pure Love Pledge was held at the end of the talk.  This is a public pledge where youths promise to keep their purity and be filial sons and daughters of the country.
The speeches of the youth representatives from university student councils and other organizations were the second part of the program. Mr. Rafelito, President of the Student Council of UASD and Mr. Tomoki, a Youth Representative from Japan, gave opening remarks. They both emphasized the importance of youth and students for creating ideal families and a peaceful nation. Youths were able to understand peace by showing affirmative reactions to the speakers. At the end of the program, five youths presidents from different organizations received "Youth Ambassador for Peace" awards for their continuing support in promoting peace.
Lastly was the appointment of Mr Jake Lavina, Special Youth Envoy to the Dominican Republic as President of Youth and Students for Peace by Mr. Leonidas Belliard. Mr Belliard gave an inaugural address about the responsibility of youth in creating a culture of sustainable peace by explaining about 4 kinds of love. He emphasized that the youth must cultivate two kinds of love, the children and sibling love.
The signing of YSP resolution led by all VIP's closed out the program. A commemorative photo was taken.