Special Webinar (India)
IAYSP-India organized the Virtual launching of Youth Peace Club Launching at Jammu and Kashmir State held on 9th March 2021 at 5 pm.
The webinar started with an introduction video of IAYSP, where they introduced the Vision, Mission, and works of YSP. Mr. Krishna Adhikari, Secretary-General of Universal Peace Federation of India, gave a short introduction about the Youth Peace Club initiative by IAYSP-India with a partnership with Universal Peace Federation.
During the program, four social activists from Jammu and Kasmir state were awarded as the Youth Ambassador for Peace. Shameema Mir, Nissar Ahmad, Mohsin Farooq, Ahmad Sofi Mr.Birendra Shrestha, an Executive vice-president, served as the moderator of the webinar.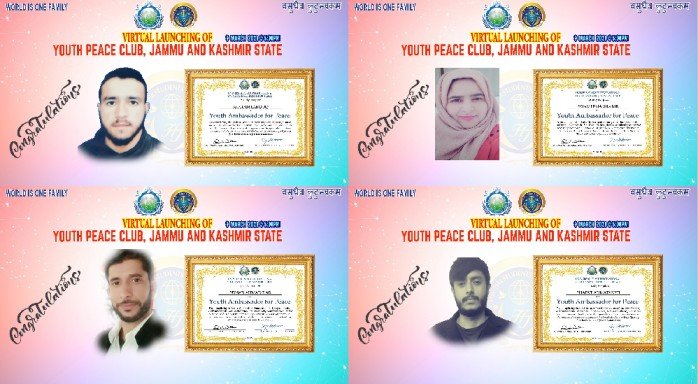 The event reached about 500 people on social media.
Special Remarks were given by Prof. (Dr.) S. P. Singh, Vice-Chancellor of Royal Global University and Vice Chairman of IAAP-India. In the webinar, the Keynote Speaker was Hon. Sayed Nissar Ahmed, Member of Legislative Assembly, National Conference.
Other speakers were Ab Jabar is asst director of handicrafts and handloom, Gulzar Rashid, Deputy Superintendent of Police.