S!NERGY: Students' Ideas to Help Mitigate Climate Change #USA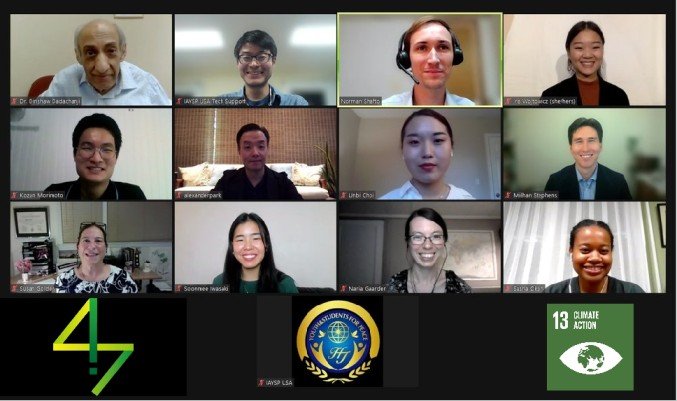 On October 16, 2021, a competition was organised with the theme, "Local Climate Action Initiatives to Model and Share." Through personal passions and interests, three students presented their ideas on methods people and society could implement to take action for our planet and its inhabitants.
Awarded first place with $500 was Unbi Choi and Soonmee Iwasaki, two undergraduate students collaborating from across the country. They presented their "Tree Planting Project." Their main emphasis was to create core principles to find a middle ground for opposing groups and views such as capitalism and socialism. The idea is that instead of creating division, everyone can work towards a common goal to protect nature.
Placing second with $300 was Iris Wojtowicz, an undergraduate student from Chicago, Illinois. Using her passion for the environment and area of study in fashion, Wojtowicz presented how changing the gender binary with fashion can help reduce production and waste pollution from within the clothing industry. Through her presentation, "Undressing your Mind", she shared insightful facts about clothing production and from 80-150 billion garments produced a year globally, more than fifty percent of clothes are discarded through incineration or landfills.
Third place with $200 went to Kozan Morimoto, a high school graduate from Missouri, whose presentation "Getting Over It" debunked common misconceptions relating to nuclear plants and energy.
Judging for the event was an exceptional panel of guest judges from various backgrounds and professions: Mr. Insup Park, Chairman of the Pacific Rim Integrated Development Group, and advisor for Women's Federation for World Peace International "Giving for Good" Project; Mrs. Susan Golden, President of S. Golden Education and Chairperson for the Climate Reality Project: Greater NJ Gateway Chapter; and Dr. Dinshaw Dadachanji, Research Director for the Hyo Jeong International Foundation for the Unity of the Sciences.