IAYSP Senegal Inauguration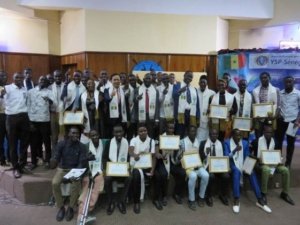 On January 19, 2019, IAYSP Senegal was launched in the largest facility of Cheikh Anta Diop University of Dakar, Senegal. A total number of eight hundred sixty-five guests participated. The VIPs attending included: Cheikhena Lam, Director of Programs and Curriculum from the Ministry of Education; Khadim Diop, President of National Youth Council of Senegal; along with five faculty mediators, President of UPF Senegal, Mr. Dethie Diouf; mediators from Dakar and Ziguinchor universities, principals and directors of secondary schools, student leaders, youth community leaders of Tivaouane Peulh and the Mouride, and seventeen media groups (TV stations, newspapers and radio). Following the offering prayers from Muslim and Christian doctrine representatives, the inauguration started with welcoming remarks from Professor Ndiacé Diop, mediator of Dakar University. Mr. Modou Sall, a youth leader and President of organizing committee, also gave welcoming remarks.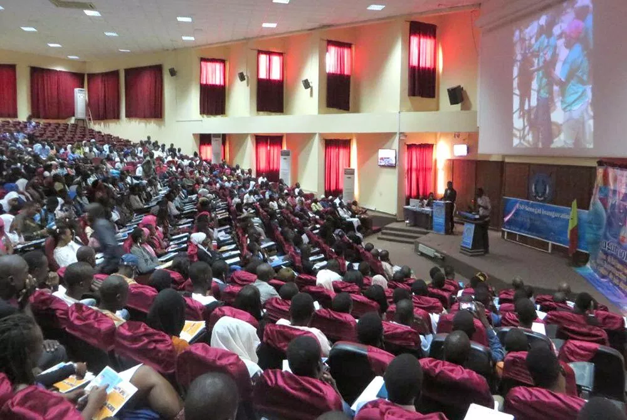 The winners of S!NERGY, a speech contest held the previous day, showed their talents. Their presentations and passion to solve social issues created a very warm atmosphere. Professor Ndongo, an emeritus Social Sciences professor with thirty years of experience in peace studies and conflicts resolution across Africa and the first Ambassador for Peace in Senegal, delivered a wonderful speech – testifying to the work of the late Father Moon and is wife, Mother Moon, who founded IAYSP in 2017. Mr. Philbert Seka, President of IAYSP in Africa, imparted an inaugural message saying that, "YSP in Senegal needs to raise future global leaders who will not only belong to Senegal but will have the heart to serve in other countries with a desire to tackle global challenges."
This was followed by Mr. Koji Matsuda, International Senior Vice-President of IAYSP, who gave the keynote address presenting YSP activities throughout the world. During his presentation, Vice-President Matsuda said, "If everyone gathered here today becomes the owner of YSP, expands these projects and develops good character, then the culture of this nation will become progressive and peaceful."
The faculty leaders from the five universities attending the program each received a certificate as a Youth Ambassador for Peace and were determined to follow YSP's vision to establish a chapter on each of their campuses. Khadim Diop, President of National Youth Council, motioned that he wanted to sign an MOU with YSP to ensure regular activities. The National Youth Council in Senegal is in charge of 17,000 organizations for youth and students nationwide. Consummating the event, Cheikkena Lam, the Director of Programs and Curriculum at the Ministry of Education, mentioned that he was ready to prepare a curriculum of education for peace with YSP. It was a memorable ceremony with all university leaders and youth leaders gathered together headed toward the same goal – lasting peace.